WHAT'S "JAPA Recommended Parts"?
The JAPA "Automotive Parts Recommendation System"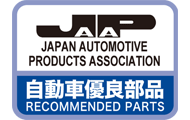 The branded parts supplied by automotive manufacturers for maintenance and repairs carrying their own brands and through their own distribution channels are referred to as 'genuine parts'. Whereas, parts for maintenance and repairs that are certified under the JAPA's "Automotive Parts Recommendation System" and considered to be of the same or better quality as genuine parts are called 'JAPA Recommended Parts'. These "recommended parts" carry auto parts manufacturer brands and are supplied to aftermarket worldwide (i.e. not just in Japan) through the network of JAPA member companies.
The JAPA started its 'Automotive Parts Recommendation System' in 1972 to ensure that consumers could be confident that they are getting reliable, excellent quality parts for their vehicle. The aim of this system, as stipulated by the requirements of the 'Recommended Automotive Parts Certification System' standards that came into effect with the promulgation of the Ministry of Trade and Industry Ordinance 19, 1947, is to raise the level of consumer trust in the industry by contributing to the benefit of users through the increased diffusion of reliable and excellent quality parts in the aftermarket.
Forty years later in 2012 the JAPA undertook a review and reform of the system and established the following standards for 'JAPA Recommended Parts' to enable ordinary consumers to choose the parts they require without hesitation and in full confidence.
(1) Standards relating to guarantee responsibility
1.Establishment of guaranteed standards and periods (or number of kilometers).
2.Conclusion of Product Liability (PL) insurance or compensation contracts corresponding to PL insurance standards.
(2) Standards relating to quality
1.Products displaying the JIS mark, or auto parts manufacturer products that have acquired 'ISO standard' certification.
2.Products of guaranteed quality that have been recognized and recommended by public agencies or manufacturers' associations, etc.
3.Products made by auto parts manufacturers that make assembly component products for automotive manufacturers.
4.Products of a quality equal to or better than the products mentioned in previous items that have also been recommended by organizations other than the JAPA.
5.Products that satisfy the necessary requirements for quality, standards, and specifications (quality and production management), and are recognized as being of a level equal to or better than the products mentioned in previous items in terms of degree of brand recognition, and marketability.
The relevant parts or accessories must meet one or more of the requirements described in each of the above paragraphs (1) and (2).
JAPA recommends reliable and excellent quality parts in the after-market that are deemed to be suitable and meet the requirements stipulated above from among the wide range of maintenance and repair parts available. That is to say that JAPA recommends authorized products that satisfy the testing and standards requirements of national and public organizations, leading private sector organizations, automotive manufacturers, and auto parts manufacturers, etc.
JAPA will continue to make every effort to promote the diffusion of 'JAPA Recommended Parts' in both manufacturing and distribution so as to make an even greater contribution to the good of all consumers.




List of companies manufacturing 'JAPA Recommended Parts'
Company Name

Products

TEL

Akebono Brake Industry Co., Ltd.
Disc brake pad,Brake shoe,Brake lining

81-48-560-1514

ALPS MFG. CO., LTD.
FILTER ELEMENT

81-495-72-3131

ASAHI GIKEN CO., LTD.
WATER PUMP

81-53-462-1226

AXESS CORPORATION
ENGINE OIL, OTHERS

81-3-6856-4121
81-6-6458-4401

Bando Chemical Industries, Ltd.
Belts for Automobiles

81-78-304-2923

CENTRAL AUTOMOTIVE PRODUCTS LTD. new
shock absorber, ignition coil, CVjoint

81-6-6443-5130

CORTECO ISHINO CORPORATION
ENGINE GASKETS,Packing,Oil seal,Grease

81-3-5405-8411

DAIEI TECHNO CO., LTD.
EXHAUST SYSTEM,
EXHAUST PIPE

81-6-6911-4751

DAITO PRESS MFG. CO., LTD.
BACK MIRROR, ROOM MIRROR

81-6-6911-4751

DAIWA KOGYO. CO., LTD.
LININGRIVETS

81-49-225-5855

DENSO SOLUTION
WIPER BLADE

81-3-6367-9666

DOWA CO., LTD.
LAMP

81-3-3417-7611

EIKEN INDUSTRIES CO., LTD.
FILTER ELEMENT

81-537-85-4130

EMPIRE MOTOR CO., LTD.
Private Brand Products Oil, Electric components, Steering devices, Others

81-3-3355-6000

Energywith Co.,Ltd
AUTOMOTIVE BATTERIES

81-3-5533-7560

FBK CORPORATION
Brake shoe

81-72-977-81610

FUJI BRAKE INDUSTRY CO.,LTD
BRAKE LINING,
DISC BRAKE PADS

81-280-30-8281

FUJI OOZX INC.
ENGINE VALVES, VALVE SEATS

81-45-681-1900

GS YUASA BATTRY LTD.
AUTOMOTIVE BATTERY

81-3-5402-5733

HDK CO.,LTD
Constant-velocity joint

81-79-264-5663

Hitachi Astemo Aftermarket Japan Co.,Ltd.
ENGINE POWERTRAIN, SUSPENSION PARTS

81-3-3527-6241

HKT CORPORATION
Horn,Glow Plug

81-42-624-1171

HONEST CO.,LTD
Ignition coil,Sensor ,floor motor,Others

81-48-981-6381

HORIUCHI SHOTEN CO.,LTD.
OIL SEAL,GASKET

81-48-956-7562

Ikoma&co., Ltd.
automotive glass

81-3-3585-3040

ISHIHARA CHEMICAL CO.,LTD
Car maintenance for chemical

81-78-681-4801

ITO PARTS CO., LTD.
REBUILT DRIVE SHAFT & BUMPER

81-3-3790-1543

KYB Corporation.
SHOCK ABSORBER, OIL JACK

81-3-6895-1265

KOITO MANUFACTURING CO., LTD.
Automotive Lighting and Accessories

81-3-3447-5198

KYOUEI SEISAKUSHO CO., LTD.
REFILE OF WIPER BRADE

81-3-3876-4210

MARUICHI RUBBER INDUSTRY CO .,LTD.
C.V. joint boots

81-3-3265-0011

MARUENU Co.,Ltd.
WIPER BLADE

81-48-461-4172

Mitsuboshi Belting Ltd.
Automobile and Motorcycle Transmission Belts

81-78-685-5785

MEIJI SANGYO COMPANY
Private Brand Products Oil, Fluid Others

81-3-5563-8855

MIYACO HYDRAULIC BRAKE MFG.CO., LTD.
Brake & Clutch Parts, Other braking devices

81-3-3591-2271

MK KASHIYAMA CORPORATION
BRAKE PAD & SHOE

81-267-65-7811

MUSASHI OIL SEAL MFG. CO., LTD.
OIL SEALS, O-RING

81-3-3404-6341

NAKANO SPRING CO.,LTD
Leaf springs

81-3-3451-3920

New Hope co.,ltd.
Automotive Chemical Products

81-3-3973-1271

NICHIMOLY Division. DAIZO Corporation
Rubber dual purpose brake grease

81-3-3246-2251

NISHIOKA MALLEABLE IRON IND CO.,LTD
Brake disk,Brake drum

81-565-52-3311

NIPPON MICRO FILTER CO., LTD.
OIL,
AIR & FUEL CLEANER ELEMENT

81-6-6474-4700

NITTO KOGYO CO., LTD.
FILTER ELEMENT

81-3-3602-1161

OCEAN PARTS CO., LTD.
HUB BOLTS and NUTS ,HUB LOCK NUTS,TAPPETCOVER PACKING

81-52-411-6860

OHNO RUBBER INDUSTRIAL CO., LTD.
DRIVE SHAFT BOOT,
STERLING BOOT

81-3-3501-5825

OIGAWA ELECTRIC CO.,LTD
Automotive bulb

81-547-53-3185

PACIFIC MFG. CO., LTD.
OIL,
AIR & FUEL CLEANER ELEMENT

81-6-6458-9391

Rocky Plus Co,.Ltd.
Roof carrier

81-52-778-7876

SANKEI INDUSTRY CO., LTD.
STERLING PARTS,
SUSPENSION PARTS

81-775-53-0555

SAWAKYU INDUSTRIES CO., LTD.
HOSE CLAMP

81-52-591-3900

SEIWA INDUSTRY CO., LTD.
SEIWA PLUG CORD SET BATTERY TERMINAL

81-6-6722-8651

SEIKEN CHEMICAL INDUSTRY CO., LTD.
BRAKE PARTS, BRAKE FLUID

81-3-3597-8662

SPK CORPORATION
Engine oil, Clean filter, Lower arm ,Disk rotor ,Others

81-6-6454-2550

STANLEY ELECTRIC CO., LTD.
AUTOMOTIVE BULB

81-45-910-0746

SYS METAL PRODUCTS CORP.
WARNING LAMP,
WORKING LAMP

81-3-3960-2231

TAMA ENTERPRISES CO., LTD.
THERMOSTAT

81-42-491-2637

TANIKAWA YUKA KOGYO CO., LTD.
BRAKE FLUID, LONG LIFE COOLANT

81-45-581-6635

THE FURUKAWA BATTERY CO., LTD.
AUTOMOTIVE BATTRY

81-45-336-5070

TMY Corporation
Lamp

81-52-882-8501

TOYO ELEMENT INDUSTRY CO., LTD.
FILTER ELEMENT

81-44-978-2751

TOSHIBA LIGHTING & TECHNOLOGY CORP.
AUTO BULB, HALOGEN BULB

81-898-23-9800

TPR CO.,LTD.
Piston rings,Cylinder Liners

81-3-5293-2817

TS INDUSTRIAL CO., LTD.
SPRING U-BOLT & CENTER BOLT

81-42-535-1801

TSUJI IRON WORKS CO., LTD.
EXHAUST SYSTEM,
EXHAUST PIPE

81-52-732-1261

UNION SANGYO CO., LTD.
OIL, AIR & FUEL CLEANER ELEMENT

81-567-32-2881

Yamaguchi Electric Ind.co.,Ltd.
Ignition Coil,Distributor Cap and Rotor,Backup Alarm

81-3-3413-0501

yamato automobile Co, Ltd.
Private Brand
Disk brake pad,Disc brake rotor, Hand tool, Others

81-6-6785-3265

YAMAWAKI INDUSTRIAL CO.,LTD
Tail pipe, Center pipe

81-6-6451-1159

YOKOHAMA OILS & FATS INDUSTRY CO.LTD.
Automotive Chemical Products

81-45-311-4701
JAPAN AUTOMOTIVE PRODUCTS ASSOCIATION JAPA